Other Therapies
LASER PHOTOTHERAPY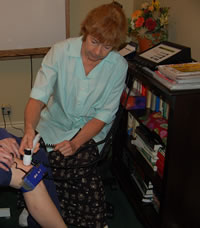 Our office uses a MedX laser phototherapy unit which is an FDA and Health Canada approved medical device.  It is the only therapeutic modality with a cumulative affect in cells and tissue.
Laser Therapy may be useful for the following
• Arthritis
• Carpal tunnel syndrome and other repetitive strain injuries
• Acute and chronic pain conditions
• Soft Tissue Injuries, sprains-strains
• Bone Fractures and orthopedic implants
• Inflammatory Conditions
• Wound healing.
For more information:
For scientific studies:
www.medxhealth.com/articles.html
XRAY SERVICES
Xray services are provided through London Xray Services and MyHealth Centre.  There are several locations throughout the city.  Reports are received within 48 hours.
NEUTRACEUTICALS AND HOMOTOXICOLOGY PRODUCTS
Top quality products are used to help detoxify and restore balance and provide safe, affordable cellular nutrition.  These products are provided by:
Metagenics:  www.metagenics.com
Heel:  www.heel.ca
Douglas Labs: www.douglaslabs.ca

Young Living Essential Therapeutic Oils
These are used to help with pain and immune system stimulation: http://www.youngliving.com/
More specialized supplements and homeopathic remedies are available from other companies upon request.
Please note that we do not typically stock these items; they are ordered upon request.